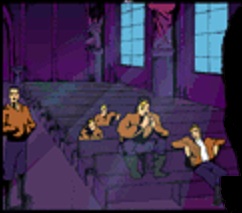 Though officially a youth club, the
Wards
are a street gang of young crimefighters. Assembled and led by
Father Desmond
, these reformed juvenile delinquents struggle to keep the streets of
Noctropolis
safe for the average citizen. But alone, even these street-hardened teenage do-gooders stand powerless against the forces of evil that threaten the City of Night. What they need is a champion or two.
Ad blocker interference detected!
Wikia is a free-to-use site that makes money from advertising. We have a modified experience for viewers using ad blockers

Wikia is not accessible if you've made further modifications. Remove the custom ad blocker rule(s) and the page will load as expected.