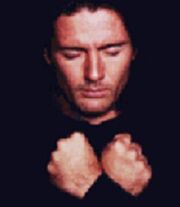 Peter Grey
is the main character of
Noctropolis
, who finds himself in the city of
Noctropolis
. He is portrayed by actor
Michael Berger
.
Peter Grey, the owner of the Ex Libris Bookstore, has had better days. The store has not seen much in the way of customers for quite some time, the unpaid bills are piling up and his wife Cori has left him for his best friend, suing for divorce.
Listless and depressed, he closes the store down and retires to the back room and his comic book collection. Further disappointed by the news of his favorite series, Cygnus Comics' Darksheer and Stiletto, being discontinued, he settles down to read the final installment. Reading it a second time, he drifts off to sleep...
Fans have speculated that the character's name is derived from Marvel Comics' characters Peter Parker (aka Spider-Man) and X-Men´s Jean Grey (whose past aliases include The Black Queen and Dark Phoenix).