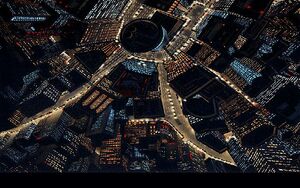 Noctropolis
is a fictional city shrouded in perpetual night. Like other cities, Noctropolis has a big crime problem. Unfortunately a number of these criminals are of the super villain variety.
Founded nearly a hundred years ago, already under an impenetrable cloud layer of smoke, ashes and dust from residual seismic activity from the Great Disasters, the city was built on top of the ruins of the city before it, what is now Subterrainia.
Pages in category "Noctropolis"
The following 20 pages are in this category, out of 20 total.